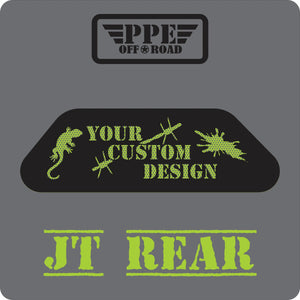 Limited slots available! 50% deposit, 50% paid upon design approval
Have your own idea for inner fenders? Purchase this item and let us know what you have in mind for your design. You can provide us a picture, a link to a picture, and/or a great description as a starting point.
We are not mind readers so please do no purchase if you don't have any idea of what you want. Indicated desired mesh color. Default design color is textured black. If you would like a different color, please indicate in your design details.
Sold as a pair- one driver side, one passenger side. 
Please Note:
For especially complex designs or unmatched designs there may be an additional charge
At this time, inner fenders are only available in black texture powder coat. Design panel and mesh can be coated to your preference.
OUR INNER FENDERS DO NOT FIT MOJAVE EDITION GLADIATOR AND MAY REQUIRE OTHER MODIFICATIONS TO WORK WITH 392 AND DIESELS.