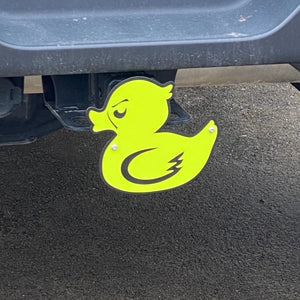 Two layer/color Duck hitch cover.
 Made of laser cut steel, powder coated the color you select layered over textured black.
Choice of grill or wing.
 Fits standard 2" hitch.
Please understand, these items are handmade by real people so some slight imperfections or differences are to be expected. Any color options marked in "" are close color matches to Jeep colors of the same name.
Pink Duck
Looks great and great quality, wasn't sure how well it would match my Tuscadero Pearl Rubicon, but I am very happy with the color!