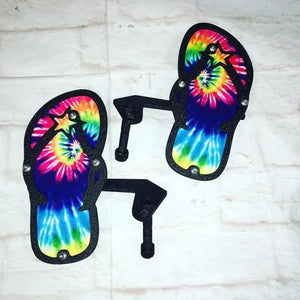 Summertime is here! Time for driving topless and doorless... and flipflops! Doesn't get any better than this.These custom designed flipflop foot pegs are the perfect accessory for your beach bound jeep trip. 
Featuring a custom printed design sandwiched between two black textured powder-coated layers.Coloring may vary from image shown. 
Foot pegs are designed to fit the lower door hinges of whatever style jeep you drive, with doors removed.This listing is for a set of two footpegs- one passenger side, one driver side.
Good quality, very small
Love the quality of the parts, but the foot peg itself is super small. I imagined them being at least an average adult shoe size.
Thank you so much for your feedback.
We put a lot of thought and testing into determining the sizing of our foot pegs, taking in account comfort as well as how size might affect safety and structural stability. Our flip flop foot pegs measure approximately 7.5" long and 4" wide, providing a great deal of surface area for resting any size foot. While in theory, the idea of a foot peg as large as an 'average adult shoe' (roughly 12" long) sounds more preferable, this would result in a very heavy and bulky foot peg which would cost significantly more to produce and ship but would also be more likely to cause damage or injury if used incorrectly.