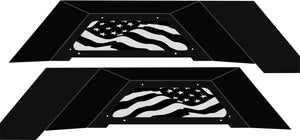 Custom designed and created in our fab shop.
Featuring an aluminum perforated mesh vent panel. Necessary hardware is included!

Inner fender is powder coated wrinkle black. Includes uncoated mesh so you can match it to your vehicle if desired, or we can powder coat it in one of our in stock colors.
Great Product...but cant say the same for the installation instruction!s.
Product quality appears to be second to none, and I definitely would have given a 5-star review if the installation instructions would have been a bit more detailed. After a couple stabs at it, I finally put the puzzle together, and got them installed. I now have a few more grey hairs, and my kids may have learned a few new words that probably shouldn't be in their vocabulary! If possible, and without jeopardizing aesthetics, I would suggest maybe labeling each piece and illustrating where to put each piece of the puzzle. Aside from that, I am very satisfied with the quality of both the rear and front inner fenders purchased from PPE.
We are so sorry that you ran into trouble with the installation process! Most of our customers have found that our photo installation guides have been most helpful, but we understand that not all people work best with pictures. We are always available via email or social media to assist with installation guidance. Please feel free to reach out to us if you ever have any issues like this in the future. Thanks!